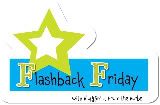 Hubby and I have a pretty typical courtship story. We met in English class at our local community college in 2002. I sat down next to him in my supercute red skirt and brand new knee-high boots, but he barely looked at me. Of course, I was instantly attracted to his indifference, and his appeal increased exponentially when I realized that the boy was wicked-smart. Luckily, he warmed up to me quickly and we developed a witty and sarcastic rapport, then a playful rivalry when we discovered we were competing for the top grade in our class. (I beat him by one-tenth of a point, and yes, I'm still gloating seven years later! ;P)
I began to woo him by passive-aggressively inviting everyone in class out for drinks and appetizers just to have an excuse to see
him
outside of Creative Writing 101. He courted me by mocking my new tattoo and writing me a poem on the dangers of drinking and driving, which included gruesome references to human brain matter being scraped off wet pavement. (I know, I know, who wouldn't fall head over heels with sweet talk like that?) Eventually we managed to stumble our way onto an actual date, and five months later we were engaged. How did that happen, you ask? Please, prepare yourself to be overcome with emotion at the sheer romance of hubby's proposal...
We were driving to the movies one rainy night in his grandparents borrowed pickup truck. Without taking his eyes off the road, he pulled a ring out of his jacket pocket and thrust it at me. Then
he poured out heartfelt declarations of his undying love
he said, "Here. Put this on."
And I did.
Yep, that's it. The big romantic story of how our life together began. I keep telling him he owes me a real, down-on-one-knee, champagne-at-sunset proposal, but after 5 years, I've quit holding my breath that it's ever going to happen. Besides, he's given me two of the world's most precious children, and nothing else he has to offer can ever top that!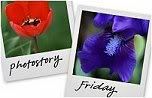 Hosted by Cecily and MamaGeek