Naptime for the little Beast is always a struggle. Some days he falls asleep after a short round of whining and resistance. Other days, we fight it out for hours -with me usually ending up the loser. I just don't have the skills or energy to counter and defeat the litte Beast's guerilla tactics. I "lock" him in his room, he screams, kicks the walls and door, and totally destroys his bedroom. Here are some photos to illustrate just how outmatched I am in this battle:
Yes, he's crying. Because he got scolded. But you'll stop feeling sorry for him by the end of this post, I promise...
Had enough?! Me too, but the little Beast is not done yet!
Just look at that smug little smirk on his face! He
knows
he's winning!
Dude. You're three feet tall.
How
did you manage to mess up the curtains?!?!
And last but not least - The Great Diaper Disaster:
(Check out the full story of this photo - and my favorite naptime mess EVER - at
this previous post
.)
Anyway, these are just the battles I have photos of. I could bore you for hours with my naptime war stories, like the time the little Beast took off his own dirty diaper and used its contents to redecorate his bedroom. Ugh! Lately he's been escalating his offensive and I think it's probably about time I waved the white flag of surrender. But, boy, does it ever rankle being bested by a two year old! Grrrr...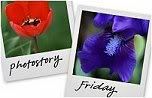 Hosted by Cecily and MamaGeek