The other day while driving in the car with his grandma, the little Beast spotted some cows standing in a muddy, flooded field, which led to an interesting conversation I'd love to share with you.
The little Beast said: "Those cows is standing in milk, gramma."
Grandma replied: "No, that's mud buddy. Cows don't
stand
in milk, they make it."
Beast:
confused silence
.
Grandma: "Do you
know
where milk comes from?"
Beast: "From my frigerator."
Grandma: "Yes, but where does mommy get the milk to put in the refrigerator?"
Beast: "From store!"
Grandma: "But where does the store get the milk?"
Beast:
Thinks for a moment
: "I don't know!"
Grandma: "From those cows on the farm!"
Beast: "Ooooo-oh."
Grandma: "And where does Beauty get her milk?"
Beast: "
From mom's shirt
!!"
Which reminds me of another story. When the little Beast was a baby, his then 4-year old cousin
Ms. Smartypants
, was fascinated with the concept of breastfeeding. She gave it a lot of thought. One day she announced to the family that she knew why women had two breasts:
One side for hot milk, and the other side for cold!
I love the way their cute little brains work. What are some of the funny things your kids have said?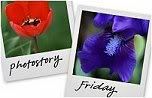 Hosted by Cecily and MamaGeek